Dealer Text Marketing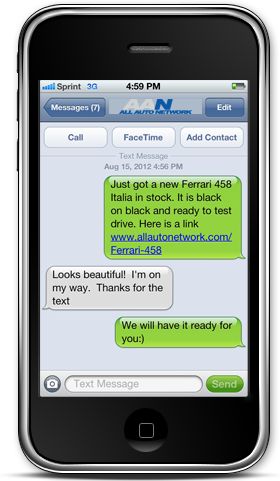 Text messaging is the most widely used data application in the world. The average cell phone user sends and receives more texts than phone calls. An average of 4.1 billion text messages are sent every day, and, text messages are read within 15 minutes of being received.
There are more than 270 million SMS text messaging users in the U.S. alone, who are potential clients for your dealership. If you are not using this technology for marketing–you are literally missing out on HUGE income potential.
All Auto Network would be more than happy to help your dealership implement an effective Text Marketing campaign.  We offer a variety of packages and can custom tailor one according to your budget and needs.